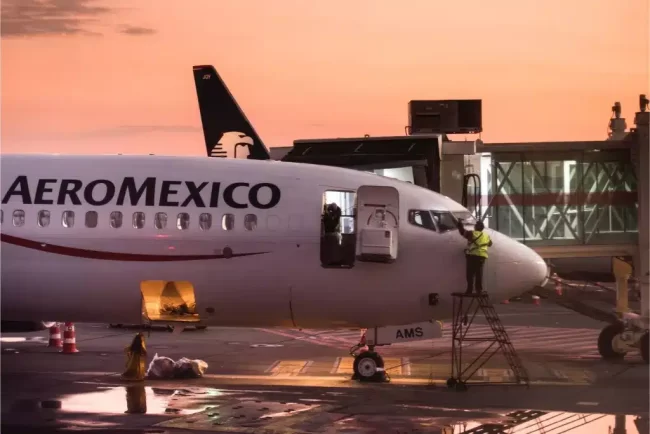 These airports serve as major hubs for various Mexican airlines, including Aeroméxico and Volaris which offer a wide range of domestic and international routes. As you explore the fascinating destinations that Mexico has to offer, you'll find that the country's aviation infrastructure is on par with global standards, offering amenities such as state-of-the-art terminals, VIP lounges, and efficient transportation links.
When it comes to comfort and convenience, Mexico's airports and airlines are committed to providing an exceptional travel experience. We invite you to browse this page and contact SkyGoFly to discover invaluable information and secure the best flights to Mexico's top airports.
How Many Direct Flights from the Airports in Mexico
When discussing direct flights originating from Mexican airports, it's vital to start with the notion that the number of these flights varies based on multiple factors. These include the season, airline schedules, and ongoing aviation agreements between countries. However, to provide you with a general idea, Benito Juárez International Airport, as the country's busiest airport, offers hundreds of direct flights daily to destinations around the world. Similarly, airports like Cancún International and Guadalajara International aren't far behind, providing a plethora of direct flight options.
Domestic Direct Flights
The domestic network of direct flights in Mexico is quite robust, connecting major cities and tourist destinations efficiently. For example, a frequent business traveler can board a morning flight from Mexico City to Monterrey and return the same evening without hassle. In fact, the ease of these air connections could be likened to a well-oiled machine, where every cog has its role in ensuring the efficient transportation of passengers and cargo across the country.
International Direct Flights
When it comes to international direct flights, Mexican airports offer a rich tapestry of destinations. Imagine waking up to a cup of coffee in Mexico City and landing in New York City for a Broadway show by the evening. Such is the versatility of international direct flights from airports like Benito Juárez, where major carriers like Aeroméxico and Delta connect Mexico to key cities in the United States, Canada, Europe, and Latin America.
Tips for Finding Direct Flights
Use Advanced Search Filters: When booking, utilize the advanced search filters on travel websites to select the 'Direct Flights Only' option.

Check Airline Websites: Often, airlines will have exclusive routes that are not listed on third-party websites.

Be Flexible with Dates: Sometimes shifting your travel date by a day or two could open up direct flight options.

Utilize Airline Partnerships: Airlines often share routes, so checking partner airlines may lead you to the direct flight you desire.
Seasonal Flights
Seasonality plays a crucial role in the availability of direct flights. For instance, during the holiday season or local festivities like the Day of the Dead, you'll find additional direct flights to cater to the increased demand. It's akin to a retail store increasing its stock before a major sale; the airline industry responds to seasonal ebbs and flows by adjusting the number of direct flights.
Whether you're flying within Mexico or venturing abroad, you'll find an extensive network of direct flights to cater to your needs. From the busiest hubs to smaller regional airports, Mexican aviation offers a comprehensive array of options that match global standards.
The Top 5 Airports in Mexico
Navigating through the airport landscape of a country as diverse as Mexico involves understanding the key players in the field of air operations. These are the airports that not only service the highest volume of passengers but also offer the most extensive list of amenities and flight options. Below, we delve into the top 5 airports in Mexico, each acting as a bustling gateway to a unique region of the country.
Benito Juárez International Airport (MEX) – Mexico City
As the primary international gateway to Mexico and its capital city, Benito Juárez International Airport stands as a colossus in Mexican aviation. With two main passenger terminals and a wide array of amenities such as shopping areas, lounges, and dining options, the airport serves as a microcosm of the city's own cosmopolitan allure. Think of this hub as the Grand Central Station of Mexican airports; it's a place where paths cross, connecting international passengers to domestic destinations and travelers to virtually every corner of Mexico and beyond.
Key Features
Multiple VIP lounges

Extensive Duty-Free shopping

Direct flights to over 100 international destinations
Cancún International Airport (CUN)
Cancún International is not just an airport; it's the first chapter in countless stories of Caribbean getaways, Mayan exploration, or even business journeys. Serving as the second busiest airport in Mexico, it mainly caters to tourists visiting the Cancún and Riviera Maya regions. The airport features a sleek design, aimed to impress and relax travelers embarking on their tropical adventures.
Key Features
Modern and aesthetically pleasing terminals

Numerous options for local crafts and goods

Direct flights to major North American and European cities
Miguel Hidalgo y Costilla Guadalajara International Airport (GDL)
This airport serves as the main transport hub for Mexico's second-largest city, Guadalajara. It's a crucial point for business travelers and tourists alike, offering a range of domestic and international flights. Picture this airport as the reliable quarterback and center of a football team, always delivering strong performances but often overlooked in the shadow of more glamorous players.
Key Features
Efficient layout for quick transfers

Business lounges with ample amenities

Strong focus on punctuality and reliability
General Rafael Buelna International Airport (MMT) – Mazatlán
Located in the tourist-friendly area of southern Sinaloa, Mazatlán's airport is a smaller but important gateway for travelers looking to explore the Pacific coast of Mexico. The airport's charm is in its simplicity and efficiency, much like a well-curated playlist that only features the hits, delivering what you need without unnecessary filler.
Key Features
Close proximity to beach resorts

Easy navigation and signage

High-quality customer service
Licenciado Gustavo Díaz Ordaz International Airport (PVR) – Puerto Vallarta
Set against the backdrop of Mexico's stunning Pacific coast, Puerto Vallarta's airport and passenger terminal now offers an inviting entry point to this popular resort destination. Its architectural design pays homage to traditional Mexican culture, offering travelers a taste of what's to come in their visit.
Key Features
Attractive architecture

Comfortable waiting areas

Direct flights to U.S. and Canadian cities
By understanding the nuances of each of these top five airports, you can plan your Mexican travels with a higher degree of confidence and familiarity. Whether you're interested in the bustling activity of Mexico City or the relaxed beach vibe of Puerto Vallarta, knowing what to expect from your airport experience can make all the difference.
Popular Questions
Traveling to Mexico involves numerous considerations, including which airport best suits your needs or which cities offer international flight access. Here, we answer some of the most commonly asked questions about Mexican airports, offering you the information you need to plan your journey effectively.
What is the Best Airport to Go to Mexico?
Determining the "best" airport largely depends on your specific travel needs, whether they are driven by business commitments, tourism aspirations, or other factors. However, Benito Juárez International Airport (MEX) in Mexico City often tops the list due to its extensive network of direct flights, both domestic and international. It serves as a hub connecting major cities around the globe, making it a versatile choice for many travelers. Think of it as the Swiss Army knife of Mexican airports—a tool for every need.
Tips for Choosing the Best Airport
Know Your Final Destination: If you're heading to a specific region, it might be more convenient to fly directly there rather than transferring through Mexico City.

Check Flight Options: Some airports may offer more frequent or less expensive flights to your destination.

Consider Amenities: If you have a layover, an airport with better amenities will make your travel experience more pleasant.
What Cities in Mexico Have International Airports?
Numerous cities in Mexico are home to international airports, making the country accessible from various parts of the world. Some of the key cities with international airports include:
Mexico City

Cancún

Guadalajara

Monterrey

Tijuana

Puerto Vallarta

Mazatlán
These airports offer international flights, providing a range of options depending on your point of origin and the distance to intended destination.
What is the Main Tourist Airport in Mexico?
Cancún International Airport (CUN) holds the crown as the main tourist airport in Mexico. With direct flights from numerous international locations, particularly in the United States and Europe, this airport is the go-to for travelers seeking the quintessential Mexican vacation experience—be it the sun-kissed beaches of the Yucatán Peninsula or the ancient Mayan ruins. Consider Cancún Airport as the "welcome mat" to Mexico's most sought-after tourist experiences.
What Airport Do You Fly Into for Cancun?
When heading south to Cancun, you'll typically land at Cancún International Airport (CUN). As one of the busiest airports in the Caribbean, it's well-equipped to handle the influx of tourists arriving daily. The airport is conveniently located just a short drive from the hotel zone and downtown Cancún, making it an efficient gateway to start your vacation.
Navigating the complexities of travel can be likened to solving a puzzle; every piece of information helps you get closer to the complete picture. Knowing which airport to choose, which cities offer international connectivity, and understanding the tourist-centric nature of certain airports can provide those crucial puzzle pieces.