As airline travel continues its meteoric growth, there is a never-ending demand for bigger airports. Here is the biggest airport in the world…plus the top 10.
Airline travel grows a staggering rate every year…and as of 2020, it's been valued at almost $700 Billion. Growth had been impressive before the Coronavirus Pandemic that sparked fear in air travelers and airlines alike…prompting worldwide shutdowns. The International Air Transport Association (IATA) was predicting 8.2 billion passengers to partake in air travel by 2037.
The rise in air travel has had a dramatic effect on the development of airports around the world, and shows no signs of slowing down. These huge centers of aviation are being constructed all over the world to try and accommodate for how many people are flying each day and each year.This growth rate forces cities that want their airport business must come up with ways to keep these travelers happy or risk losing them altogether if they don't provide ample space for expansion…and comfortable travel.
With all this advancement, many people want to know just how big the biggest airports really are (as well the world's busiest airports) worldwide, and how many fly out of them.
Check out our deep-dive post below: The Top 10 biggest and busiest airports in the world by geographical size…
(NOTE: We've also compiled a list of the 100 busiest airports in the United States here, so take a look.)
[IDEA: Add airport maps as the image for each]
1. Beijing Daxing International Airport (PKX)
It's actually hard to fathom just how big China's newest jewel, Beijing Daxing Airport really is. Beijing Daxing International Airport, the biggest airport in the world, covers a land area of over 18 square miles, not the largest in terms of land (keep reading), but its single terminal totals a mammoth 7.5 MILLION square feet!
It cost an estimated $11 billion (US) to build and you'll have to walk over a quarter mile from the center of the terminal to the furthest gate in each wing, of which it has five.
It has over 70 food and drink stops/restaurants, and hosts a varied menu with mostly a Chinese flair.
The airport has 4 commercial runways and 1 military runway. It is built to manage 300 departures and landings an hour, and even though it doesn't handle the most passenger traffic (yet), it is expect to do just that by 2030.
2. King Fahd International Airport (DMM)
King Fahd International Airport, the second busiest, is located roughly 20 miles northwest of the city of Dammam in Saudi Arabia. It is named after the former King of Saudi Arabia, Fahd ibn Abdulaziz…and the airport is also known as Dammam International.
Dammam was the largest airport in the world at 3.5 million square feet until it was unseated by the above Beijing Daxing International. However, it is easily the largest airport by property size coming in 300 square miles!
King Fahd International opened in 1999 and was previously used as a U.S. air base in the Gulf War.
DMM has 2 runways that are 2.5 miles long each and 38 airlines operate out of of the field.
3. Denver International Airport (DEN)
Denver International Airport (DEN) opened in 1995 replacing Stapleton International, that had serviced Denver since 1929.
It is the largest airport in land area in North America at 52 square miles, second worldwide only to King Fahd International in Saudi Arabia.
DEN has 6 runways, with Runway 16R/34L being the longest commercial use runway in North America at 16,000 feet in length.
DEN serves as a major hub for United Airlines and also serves 22 other airlines. It employs over 35,000 people making it the largest employer in the state of Colorado.
4. Dallas/Fort Worth International Airport (DFW)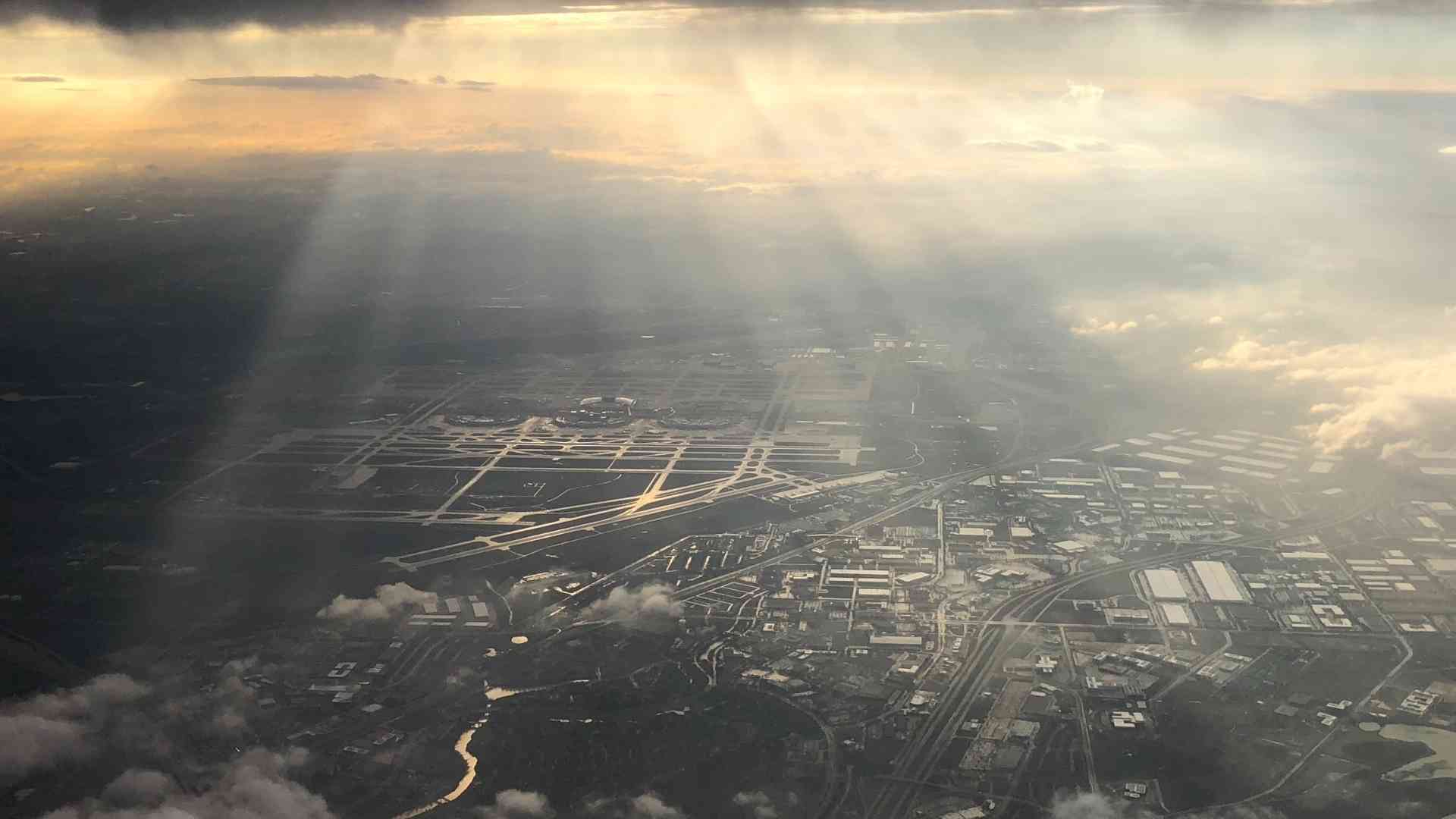 DFW Airport
Dallas Fort Worth International Airport (DFW) is the main airport that services the greater Dallas/Fort Worth Metroplex, flying to over 250 destinations…which only a handful of airports worldwide actually do (flying to over 200 destinations).
Area-wise, it is only second to Denver International with a total land area of 27 square miles. It has it's own zip code in the city of Grapevine and has its one police and fire services.
Dallas Fort Worth International is the home hub for American Airlines (American is headquartered in nearby Fort Worth) and is the second largest single airline hub in the world (1st is Delta Air Lines in Atlanta).
Dallas Fort Worth International has 7 runways with 4 of them over 13,000 feet in length. DFW opened in 1973 and hosted the first landing of the Concorde Supersonic Jet (Air France) in the United States.
5. Orlando International Airport (MCO)
Orlando International Airport (MCO) was born in 1976 as it was previously known as McCoy Air Force Base (which is where the airport code 'MCO' came from). McCoy largely stopped operations after the Vietnam War.
Orlando International covers almost 13,000 acres and is the largest flight operator in Florida. 44 airlines fly out of MCO with over 850 daily flights. It has 4 runways and a total of 129 gates.
Southwest Airlines is the airport's largest operator along with JetBlue, Frontier and Spirit having a significant presence there.
6. Washington Dulles International Airport (IAD)
Washington Dulles International Airport
Washington Dulles International Airport (IAD) opened in 1962 and is named after John Foster Dulles, who was President Dwight D. Eisenhower's Secretary of State. Dulles covers over 13,000 acres and has 3 terminals and 123 gates.
Dulles has 4 runways (4 out of the 4 are over 10,000 feet) with a 5th runway in development. The first Boeing 777-200 in commercial service landed there (United) from London Heathrow in 1995 and the first Boeing 747-8 Intercontinental commercial flight (Lufthansa) landed at Dulles from Frankfurt.
Dulles originally used the airport code 'DIA', but it was changed to 'IAD' over concerns it could be misread as DCA (Reagan National).
7. George Bush Intercontinental Airport (IAH)
George Bush Intercontinental Airport (IAH) was opened in 1969 and originally called Houston Intercontinental Airport until it was renamed after President Bush #41, George Herbert Walker Bush, May 2, 1997.
Bush IAH covers over 10,000 acres of land and has 5 runways:
– 15L/33R, 12,001 Feet- 15R/33L, 10,000 Feet- 9/27, 10,000, Feet- 8L/26R, 9,000 Feet- 8R/26L, 9,402 Feet
IAH is undergoing an extensive improvement program which will see Terminal D and Terminal E combined in to a new, updated Terminal named Mickey Leland International Terminal (MLIT). Leland was an African-American U.S. Congressman who died in an aviation accident in Ethiopia in 1989.
United Airlines is Houston Bush's largest carrier at the airport.
8. Shanghai Pudong International Airport (PVG)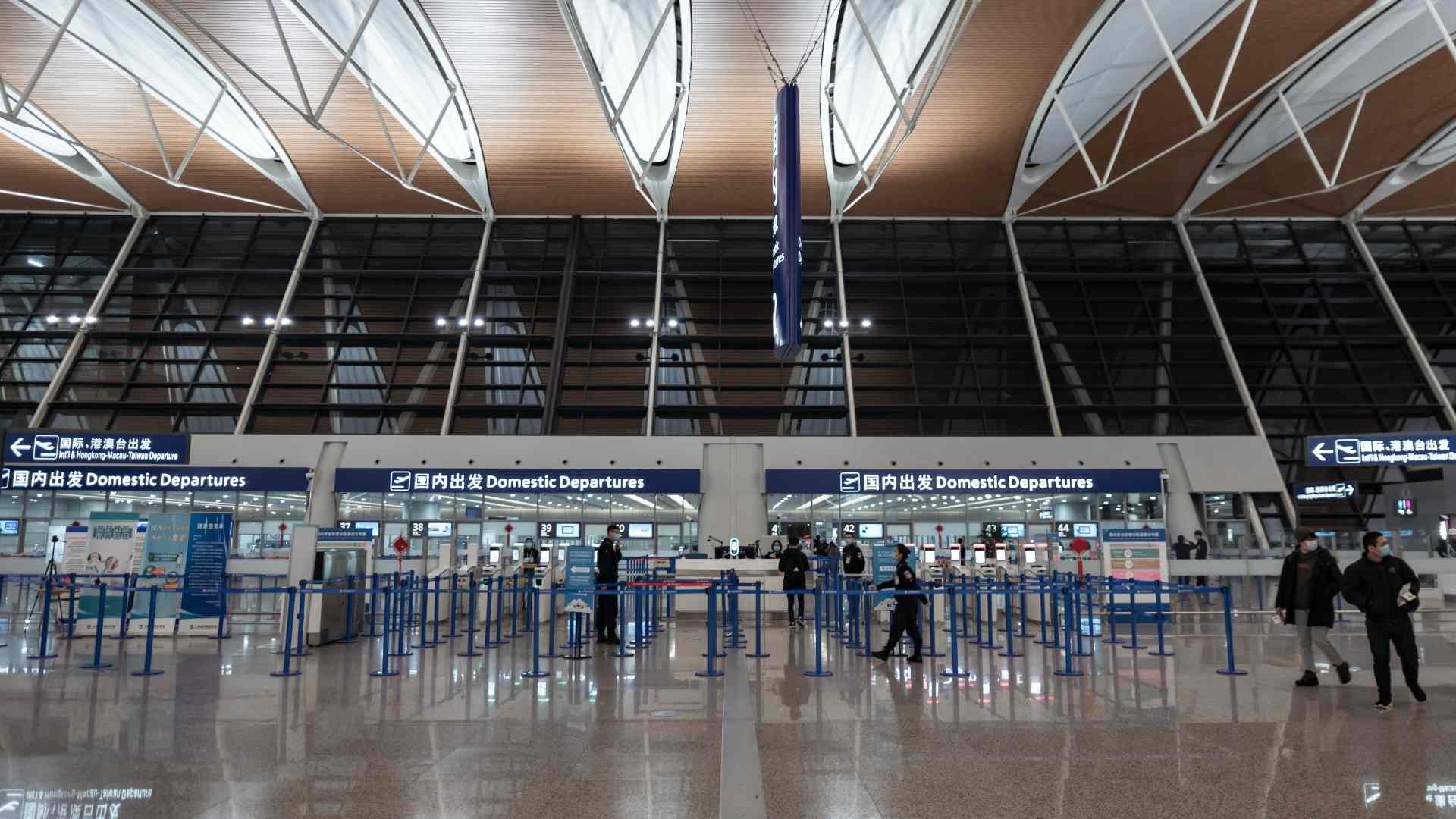 Shanghai International Airport occupies more than 40 square kilometers and is the 3rd biggest airport in terms of passenger traffic in China. PVG also boasts being the 3rd largest airport in the world for handling cargo.
Pudong Airport has 3 large terminals that move some 70 million passengers a year and has 5 runways that are considered very long: They range from 11,000 to some 13,000 feet.
In 2019 the airport opened the largest standalone satellite terminal at 622,000 square meters with 90 departure gates.
It's largest operator is China Eastern Airlines and services over 110 carriers.
9. Cairo International Airport (CAI)
Cairo International Airport (CAI) is the largest airport in Africa in terms of geographical size at 37 square kilometers (14 sq. miles).
CAI handles some 15 million passengers a year, has 4 terminals and has 3 runways.
Le Meridien Hotel with 350 rooms resides in Terminal 3 and is linked by a giant people-mover walkway.
EgyptAir is the flagship carrier (its primary hub) and flies out of Cairo International to over 100 cities.
10. Suvarnabhumi Airport (BKK)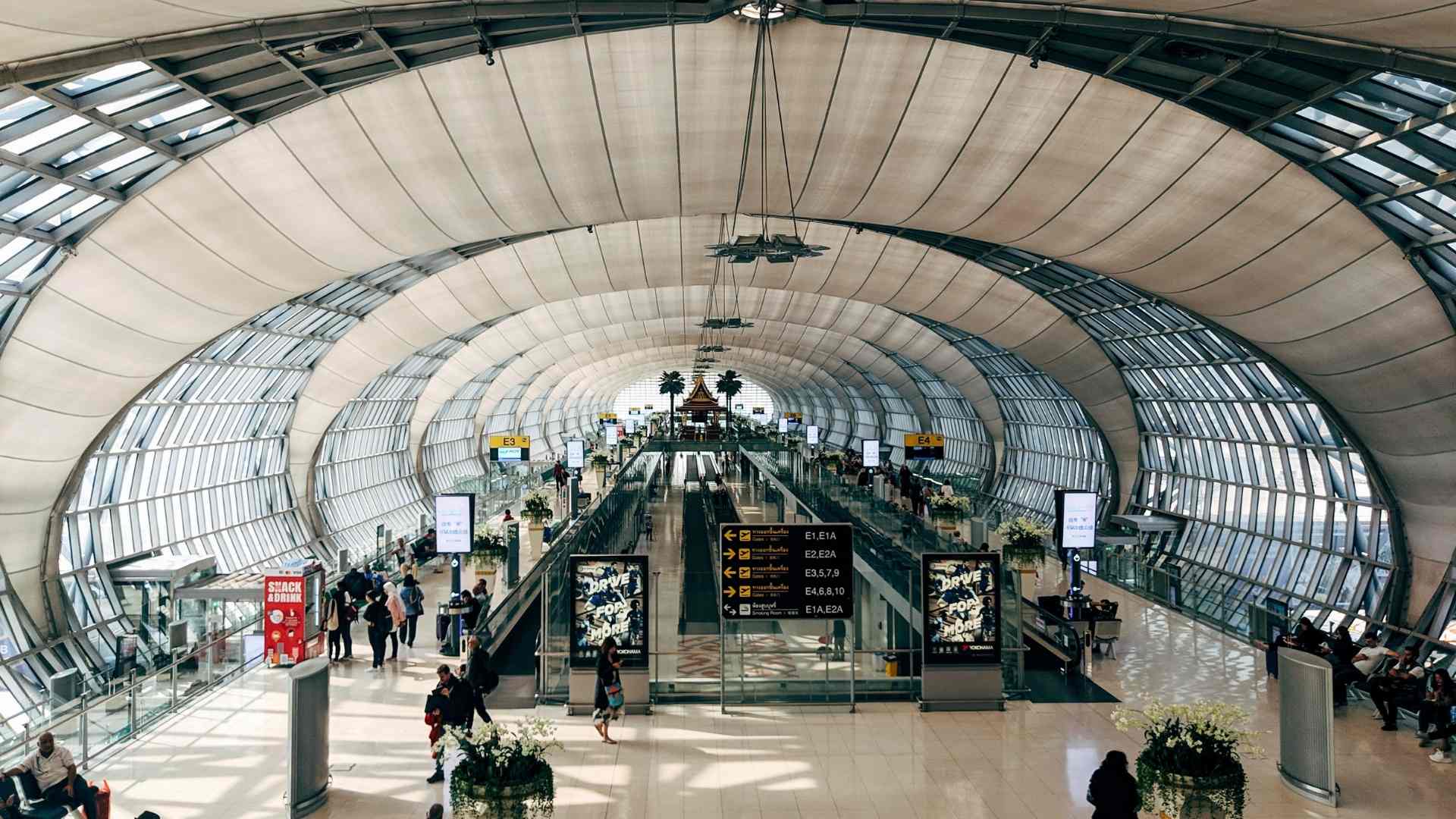 Suvarnabhumi Airport is one of two major airports serving Bangkok, Thailand (Don Mueang International is the other) and covers 32 square kilometers of land (8,000 acres). It serves as a major gateway airport for Southeast Asia and also has a major cargo presence in the region.
The airport is a primary hub for Thai Airways, Thai Smile Airways (budget carrier), Vietjet and Bangkok Airways.
At one point the airport boasted the world's tallest free-standing control tower at 434 feet and the world's fourth largest single-building airport terminal (563,000 square meters or 6,060,000 square feet).
BKK has 3 runways and opened in 2006.