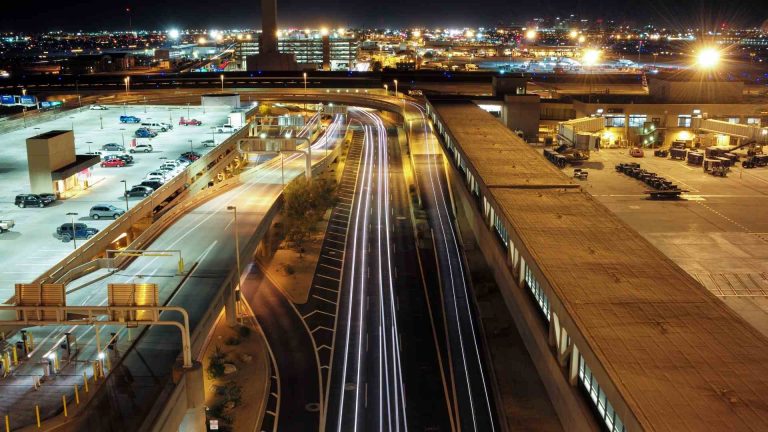 Phoenix Sky Harbor International Airport
Ah, the Big Kahuna of Arizona Airports.
If airports and airlines were high school cliques, Phoenix Sky Harbor would be the popular kid everyone knows and loves, or maybe loves to hate, depending on how long you've been waiting at baggage claim. As one of the busiest airports in the U.S., Sky Harbor serves over 45 million passengers each year. But don't let its popularity fool you; it's not just a pit stop for those seeking warmer climes.
Why Fly Here? Its central location makes it a natural hub for connections to destinations across the country. Got a layover? Make the most of it. Phoenix's downtown is just a short Light Rail ride away. Who said you can't explore a city in 3 hours?
Pro-tip: Terminal 3 has been renovated and is now snazzier than ever. If you're flying Southwest or Delta, you're in luck. Just remember – the sheer size of this place means you'll want to bring your sneakers. And no, those aren't moving sidewalks for your amusement – they're for getting you to your gate before next Christmas.
Phoenix Mesa Gateway Airport
The Hipster's Alternative.
Less known, and proud of it, Mesa Gateway is the cooler, low-key cousin of Sky Harbor. Located in the East Valley, it's a favorite for those looking to avoid the hustle and bustle. While it doesn't offer the international options its big brother does, it's got a few tricks up its sleeve.
Why Fly Here? Most flights from here are domestic and, often, direct. This means no frantic dashes between gates to make your connection.
Pro-tip: This airport loves its budget airlines. Allegiant, anyone? But remember, budget means, well, budget. Pack a snack, unless you fancy buying a five-dollar granola bar.
Tucson International Airport
The Desert Rose of Airports.
Situated a bit further south, the Tucson International Airport is perfect for those who want a slice of Arizona without the Phoenix hustle. It's smaller than Sky Harbor but still large enough to get you where you need to go.
Why Fly Here? the city of Tucson is a gem in the desert with its own set of attractions. And hey, if you're a fan of the University of Arizona, you're practically on campus.
Pro-tip: Check out the artwork. TUS is known for showcasing local artists. You might find yourself looking at something other than your phone for a change.
Off-The-Beaten-Path: Arizona's Lesser-Known Air Hubs
Scottsdale Airport: If Sky Harbor is the popular kid and Mesa Gateway is the cool hipster, then Scottsdale Airport is the posh, upscale member of the club. Located in one of Arizona's swankiest cities, this airport primarily caters to private and corporate aircraft. But, hey, if you're chartering a jet, or maybe just fantasizing about it while watching from a nearby café, this is your spot. Pro-tip: Looking for star sightings? Keep your eyes peeled; you never know which celeb might be disembarking from their private plane.
Yuma International Airport: Don't be fooled by its international tag; Yuma's got that small-town charm down pat. Nestled near the California-Arizona border, this airport might not be on everyone's radar, but it does the job, especially if your final destination is the Southwest corner of the state. Fun Fact: Yuma is the "Winter Lettuce Capital of the World." Because what's travel without a quirky fact to share at your next dinner party?
Laughlin Bullhead International Airport: Located along the Colorado River, this airport might not be bustling like in its heyday, but its scenic location is a reward in itself. And while its international status might make you imagine jumbo jets, think smaller, think quieter. Charm Alert: It's like the sleepy river town got an airport. If you're heading to Laughlin's casinos or looking to bask in river views, this is your stop. The Colorado River: where you can cool off after your plane lands in the desert furnace. Who knew airports could offer waterfront property?
Quick Takes: Arizona's Nooks and Crannies of the Skies
Flagstaff Pulliam Airport: Ever wanted to land in a forest? Pulliam's your ticket to pines and cooler temps. Just remember: you're 7,000 feet up, so catch your breath!
Goodyear Airport: Perfect for aviation nerds. Why? It's more of a storage and maintenance hub. Come watch planes get pampered instead of people.
Sedona Airport: Not just an airport, but a viewpoint. Landing here is like descending onto a postcard. And yes, those red rocks are real.
Prescott Regional Airport: It's quaint, it's cute, and if you squint, you might see a cowboy or two. Welcome to the heart of Prescott.
Grand Canyon West Airport: Not to be mistaken with a main gateway, but if your bucket list includes "Skywalk," this tiny hub's your stepping stone.
Page Municipal Airport: Sandwiched between Lake Powell and stunning slot canyons, it's an adventurer's airport dream. Flight delays? More like scenic stays.
Wrapping Up (the warm concrete)
Well, there you have it, jet-setters and tarmac treaders: a whirlwind tour of Arizona's aerial gateways, from the bustling behemoths to those cozy corners where even tumbleweeds seem too busy. Whether you're touching down among red rocks, cooling off by the Colorado, or aiming for an A-lister's runway strut in Scottsdale, there's a slice of desert sky just waiting for your descent.
So pack those shades, remember the SPF, and venture forth. The Grand Canyon State's vast skies are beckoning, and let's be real, there's no better welcome mat than a runway. Happy landings…