In addition to its charter service, the airport also offers general aviation facilities and is equipped with modern amenities to ensure a comfortable travel experience. Its strategic location just across the river from Laughlin, Nevada, makes it a convenient gateway for those seeking entertainment and outdoor recreational opportunities.
We invite you to browse this page and to search the SkyGoFly site to find the best flights to Bullhead City Airport and discover the wonders that await you in this unique region.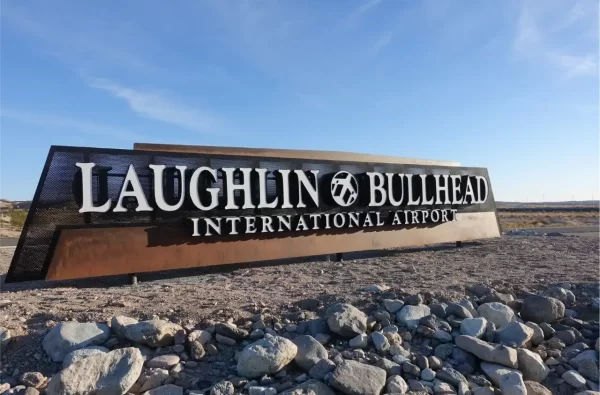 Bullhead City Airport Flights
Understanding the options for flying into or out of Bullhead City Airport can help you make the most of your travel experience. Though the airport currently does not offer commercial services, there are a couple of noteworthy alternatives that can be found to cater to your aviation needs: Charter Service and General Aviation Services.
Charter Services
If you're looking for a convenient and personalized travel experience, charter services can be an excellent option. At Bullhead City Airport, there are a couple of key providers offering charter services that fly you to a range of destinations.
Sun Country Airlines
Sun Country Airlines provides a reliable charter service that allows you to schedule flights according to your needs. This is particularly beneficial for corporate trips or large group travel where a tailored flight schedule can make a significant difference. Sun Country has a reputation for high-quality service, making it a comfortable choice for those who prefer a more luxurious travel experience.
Tip: When booking a charter flight through Sun Country Airlines, consider asking for any available package deals, family or corporate rates if applicable to your travel needs.
Swift Air
Swift Air offers another robust charter service option, focusing on both affordability and efficiency. They have various aircraft in their fleet to suit different group sizes, making it a flexible option whether you're traveling for business or leisure.
Example: Swift Air recently added new routes from Bullhead City to popular destinations, making it even easier for travelers to reach their final destination without having to go through multiple layovers.
Tip: For frequent flyers, Swift Air sometimes has deals and offers loyalty programs that can result in cost savings over time.
General Aviation Services
Beyond charter services, Bullhead City Airport is also well-equipped to handle general aviation needs. Whether you are a pilot looking to make a quick stop or someone interested in hiring a private plane to fly around, the airport provides necessary amenities like refueling, maintenance, and hangar space availability.
Example: General aviation services at Bullhead City Airport have recently been upgraded to include advanced navigation aids, making it easier for pilots to operate in various weather conditions.
Tip: Before utilizing general aviation services, make sure to check the airport's website or contact their operations center for the most current information on available amenities and pricing.
Whether you are flying in on a charter service or through general aviation, Bullhead City Airport offers a variety of options to suit your travel needs. With its strategic location and modern amenities, it serves as an excellent entry point for exploring the tri-state area.
Travel Tips to Bullhead City (IFP)
When planning your trip to Bullhead City via Laughlin/Bullhead International Airport (IFP), some pre-emptive knowledge can go a long way in ensuring a smooth and stress-free experience. From what to prepare before your flight to navigating the local area after you arrive, these travel tips aim to equip you with essential information for a hassle-free journey.
Documentation and Pre-Flight Checks
Before heading to the airport, make sure you have all the necessary documentation, especially if you are traveling internationally. This includes a valid passport, visa (if applicable), and any other identification required.
Tip: Digital copies of your documents can be a lifesaver in case of loss or theft. Always have them stored securely on a cloud service or a password-protected device.
Transport to and from the Airport
The airport's location across the river from Laughlin, Nevada, offers a variety of transport options, including taxis, rideshare services, and rental cars. Some hotels also have airlines provide shuttle services for their guests.
Example: The Bullhead Area Transit System (BATS) has a route that connects key parts of Bullhead City to the airport. It's a safe and budget-friendly transportation option for getting around.
Tip: Pre-booking your transport can save time and the headache of finding a last-minute ride, especially during peak seasons.
Local Amenities and Services
Laughlin/Bullhead International Airport offers a selection of basic amenities, such as dining options, restrooms, and information desks. However, for more specialized services like currency exchange or extensive shopping, you might want to venture into the city or across the river to Laughlin.
Tip: There are several ATMs at the airport, but it's always wise to carry some local currency in case of emergency or for small transactions that may not accept card payments.
Nearby Attractions
Once you arrive in Bullhead City, you won't have to go far to start exploring what the area has to offer. The Colorado River provides access to numerous opportunities for water sports, while casinos across the river in Laughlin offer a different kind of entertainment.
Example: The nearby Lake Mohave is a popular destination for boating and fishing enthusiasts and is easily accessible from the airport.
Tip: If you plan on visiting multiple attractions, consider renting a car for the duration of your hotel stay to save time on transport.
Accommodation Options
The area surrounding the airport has a range of accommodation options to suit different budgets. From high-end hotels in Laughlin to more budget-friendly motels in Bullhead City, you have a variety of choices.
Tip: Booking your accommodation well in advance can offer not only cost benefits but also more options in terms of location and amenities.
Armed with these travel tips, you're now better prepared for your trip to Bullhead City via Laughlin/Bullhead International Airport. Whether you're coming for business, leisure, or a bit of both, knowing what to expect and how to prepare can make all the difference in the quality of your travel experience.